The Best Hummus Recipe: A Delicious and Healthy Dip
When it comes to dips, hummus is undoubtedly a favorite among many. This creamy and flavorful Middle Eastern spread is rich in taste and packed with nutrients. Whether you're looking to enjoy it as a snack, appetizer, or even a sandwich spread, having the best hummus recipe in your repertoire is a must. In this article, we will explore different variations and share steps on how to make the perfect homemade hummus. So, let's dive in and discover the secrets behind creating a delectable hummus that will leave you craving for more!
I. Introduction to Hummus
Hummus originates from the Middle East and has gained worldwide popularity in recent years. It is made from simple ingredients such as cooked chickpeas or garbanzo beans, tahini (a paste made from sesame seeds), lemon juice, garlic, and olive oil. The combination of these flavors creates a velvety and tangy dip that is both wholesome and satisfying.
II. Benefits of Hummus
Not only is hummus a delicious dip, but it is also incredibly nutritious. Here are some key benefits of incorporating hummus into your diet:
1. Nutrient-dense: Chickpeas, the main ingredient in hummus, are an excellent source of plant-based protein, fiber, and essential vitamins and minerals.
2. Heart-healthy fats: Tahini and olive oil add healthy fats to hummus, which are beneficial for cardiovascular health.
3. Blood sugar regulation: The slow release of carbohydrates from chickpeas helps to stabilize blood sugar levels.
4. Weight management: The combination of fiber and protein in hummus helps keep you feeling full for longer, aiding weight management.
5. Digestive health: The fiber content in chickpeas promotes a healthy digestive system and can improve bowel movements.
III. The Perfect Homemade Hummus Recipe
Now, let's get straight to the point and guide you through the process of making the best hummus in the comfort of your own kitchen. Here's a step-by-step recipe:
1. Gather your ingredients:
– 1 can of chickpeas, drained and rinsed
– 1/4 cup of tahini
– 2 tablespoons of freshly squeezed lemon juice
– 2 cloves of garlic, minced
– 2 tablespoons of extra virgin olive oil
– Salt and pepper to taste
– Optional toppings: paprika, chopped parsley, or drizzles of olive oil
2. Prepare the chickpeas:
– If using canned chickpeas, ensure they are drained and rinsed thoroughly. If using dried chickpeas, soak them overnight and cook until tender before proceeding.
3. Blend the ingredients:
– In a food processor or blender, add the chickpeas, tahini, lemon juice, minced garlic, olive oil, salt, and pepper.
– Blend until smooth and creamy, scraping down the sides as needed.
– If the hummus seems too thick, gradually add water or more olive oil until desired consistency is achieved.
4. Adjust the seasoning:
– Taste the hummus and add more salt, pepper, or lemon juice if needed, to suit your personal preference.
5. Serve and garnish:
– Transfer the hummus to a bowl and drizzle with olive oil.
– Sprinkle with paprika, chopped parsley, or any other toppings of your choice.
– Serve with pita bread, fresh vegetables, or use as a spread in sandwiches and wraps.
IV. Variations of Hummus
While the classic hummus recipe is delightful on its own, experimenting with different flavors can take your hummus experience to another level. Here are a few variations to try:
1. Roasted Red Pepper Hummus:
– Add roasted red peppers to the base recipe for a smoky and slightly sweet flavor.
2. Spinach and Artichoke Hummus:
– Blend in cooked spinach and artichoke hearts for a nutritious and vibrant twist.
3. Sun-Dried Tomato and Basil Hummus:
– Incorporate sun-dried tomatoes and fresh basil leaves for a burst of Mediterranean flavors.
4. Spicy Sriracha Hummus:
– Kick up the heat by adding sriracha sauce or your favorite chili paste to the hummus mixture.
V. Conclusion
In conclusion, homemade hummus is a versatile and nutritious dip that can elevate any meal or snack. By following our recipe and experimenting with different variations, you can discover your personal favorite and enjoy the goodness of hummus in various ways. So, gather your ingredients, blend it up, and indulge in the creamy deliciousness of the best hummus you've ever tasted!
FAQs (Frequently Asked Questions):
1. Can I make hummus without tahini?
– Yes, you can substitute tahini with natural unsalted peanut butter or almond butter for a different flavor profile.
2. How long does homemade hummus last?
– When refrigerated in an airtight container, homemade hummus can last up to one week.
3. Can I freeze hummus?
– Absolutely! Hummus can be frozen for up to three months. Just thaw in the refrigerator before using.
4. Can I reduce the amount of garlic in the recipe?
– Yes, feel free to adjust the level of garlic according to your taste preferences.
5. Can I add additional ingredients to the basic hummus recipe?
– Absolutely! Get creative and add roasted garlic, cumin, or even fresh herbs like cilantro or dill for added flavor.
Remember, making hummus at home allows you to control the ingredients and tailor the flavors to your liking. So, get your food processor ready, grab your favorite dippers, and embark on a culinary journey with this exceptional hummus recipe. Enjoy!
Gallery
Best Hummus Recipe | Taste Of Home


Photo Credit by: bing.com / hummus prediabetes tasteofhome e08 exps
Best Hummus Recipe | Cooking With Ayeh


Photo Credit by: bing.com / hummus recipe
Best Hummus Recipe (Plus Tips & Variations) – Cookie And Kate


Photo Credit by: bing.com / hummus recipe food recipes homemade humus cookieandkate dip houmous recette cookie kate plus variations potato chickpeas cheap jump creamy simple
The Best Hummus Recipe Ever – Soom Foods | Best Hummus Recipe


Photo Credit by: bing.com / hummus
Perfect Homemade Hummus | Jessica In The Kitchen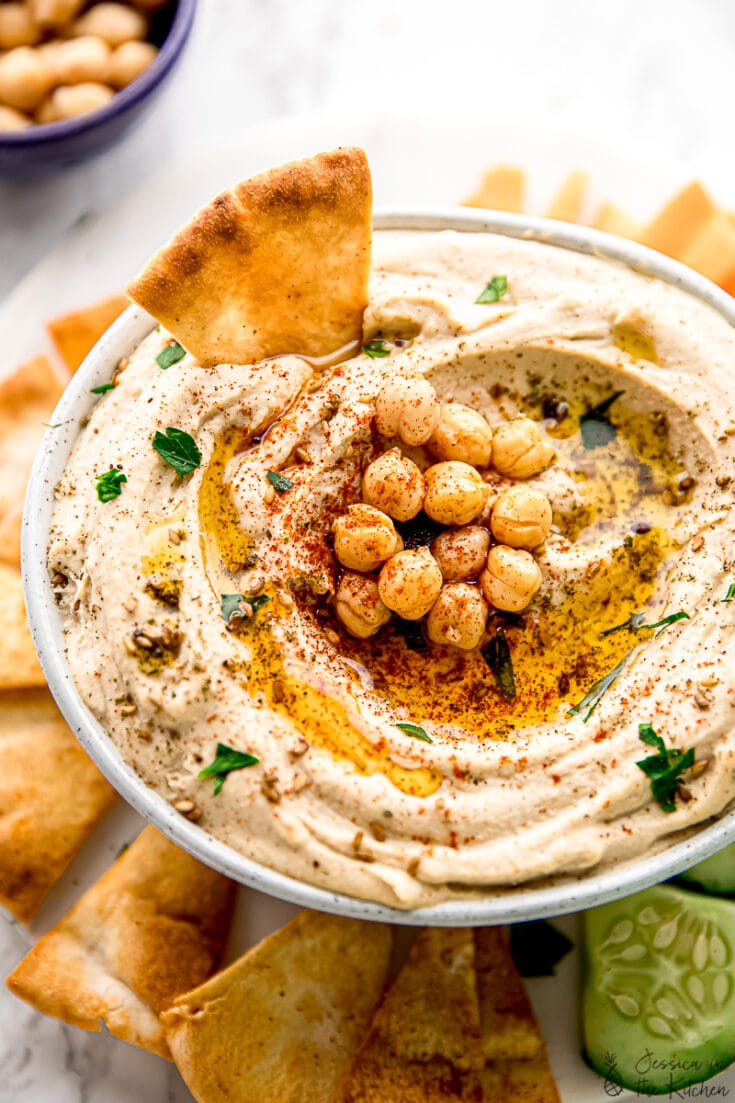 Photo Credit by: bing.com / hummus ever jessicainthekitchen baked keepinfit